AYURVEDA AND YOGA, INDIA
2 – 12 SEPTEMBER 2018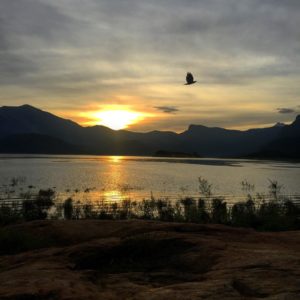 We are delighted to announce  Ayurveda and Yoga 2018!  Our  Ayurveda in Yoga program is offered in conjunction with Saraswathi Vasudevan's Yoga Vahini, India as well as highly qualified Ayurvedic faculty. The program is designed to  complement your current Yogic knowledge, and to be immediately useful in your yoga practice, life and teaching.  Participation in the program will ensure your ability to confidently incorporate Ayurvedic principles in your daily life and your application of yoga.
Ayurveda in Yoga  is suitable for all who are interested in enlivening their health, personal, and professional development.  It is suitable content for CPD points.
Yoga Therapy Australia's Ayurveda in  Yoga program will be offered in both India and Australia in 2018 although the formats will differ.  Both programs will be led by Saraswathi Vasudevan.
The India program is immersive and filled with all of the wonderous experiences that India has to offer and will include maximum experiential content.  The Ayurvedic content will be taught by the Dr Abilash Anand. The program is outlined below, and was an oustanding success in 2017.
The Sydney program will be offered over 5 days from 14 –  18 November 2018. It will be a day attendance course  focussing on the principles and practices involved, and will give the opportunity to those who may not be able to travel to still undertake this empowering intensive. This program will be led by Saraswathi Vasudevan, with Ayurvecic content taught by Dr Shaun Mathews.
The Ayurveda component has great breadth and immediate utility in its own right, while Saraswasthi weaves the knowledge of the sister sciences of Samkhya (yoga and ayurveda) into a remakable and wonderous experiential evolutionary opportunity.  These programs are pre-requisites for the Ayurveda for Yoga II 2019.
Ayurveda is thought by many to be the oldest system of medicine still practiced close to its original form.  Ayuh means life and veda means knowledge.  The knowledge contained in Ayurveda deals with the nature, scope and purpose of life, and includes its metaphysical and 

physical aspects – health and disease, happiness and sorrow, pain and pleasure.  Ayurveda defines life as the conjunction of body mind and spirit found in the Cosmic Consciousness  and states that the purpose of life is to know or realise the creator, both within and without and to express this Divinity in ones daily life. According to Ayurveda every individual life is a microcosm of the cosmos. Ayurveda thus encompasses all knowledge of life, or life span.
It is commonly regarded as a sister science of yoga with the two systems working synergistically to guide us toward perfect health and happiness.   According to the author of Ayurvedic Medicine, Sebastian Pole, Ayurveda teaches respect for nature, appreciation of life and the means to empower the individual. It is holistic medicine at its best."  Combined with Yoga the potential effect can only be described as profound.
Places are limited for our INDIA program – Register Now to Secure your place.
REGISTER NOW
Course Structure
The Ayurveda in Yoga,  teaching program is open to all interested and especially suitable for those with a background or exposure to yoga, yoga therapy, ayurveda, or meditation. The India program will commence on 3 September and complete on 12 September, 2017.  Students arrive on 2 September and have their consultations and a treatment before the course sessions commence. Ayurveda sessions will be interspersed with yoga theory, philosophy and practices. The exceptionally peaceful and somewhat magical environment imbues the teachings.
The Sydney progam will be held at The Centre, Randwick NSW from 14 – 18 November 2018. This program will be empowering and fulfilling in its own right. The content will be very similar to the India program, in condensed form.  The Ayurvedic compnent will be taught by Dr Shaun Mathews, an Ayurvedic physician and GP, <with decades of experience practising, and teaching in Ayurveda. Those attending who may wish to continue studies in Ayurveda may be eligible for credit for the Introduction to Ayurvedic Medicine  component of the Certificate in Ayurvedic Healing at Nature Care College.
In 2019 we are planning Ayurveda for Yoga II. That course will involve clinical application of ayurveda and yoga therapy. Please be aware that the Ayurveda and Yoga program or equivalent will be a necessary pre-requisite for that traiing.
The first program is a pre-requisite for the second, unless you have recognised prior learning (RPL).  There will be a formal RPL process  which will include completion of some written work. If you are a qualified Ayurvedic Wellness Practitioner you may qualify. However, even if you have that grounding, you may also choose to attend Aurveda and Yoga as the focus of the trainings will be on the integration and experience of the knowledge, with yoga. Knowledge of the philosophy of Samkhya and viniyoga yoga is also required.
Course Content
The content of our study  will include general principles of Ayurveda, its origin and fundamental elements, such as the functional principles of our individual constitution known as the doshas, (vata,  pitta and kapha, the 7 tissues (dhatus) and the malas (waste products).  We will investigate the 13 agnis (digestive and metabolic fires) and their importance, and gain a good understanding of ama (undigested food, roughly translated as toxins), its ill-effects on the physiology and general principles of alleviation.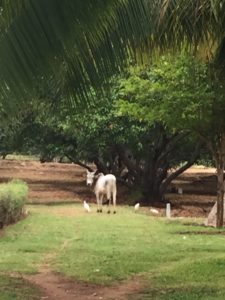 We will discover our prakriti (individual constitutions), how to determine anothers prakriti and  how to examine  an individual, including an introduction to pulse diagnosis.  Daily practices for good health and living in line with natural law (dinacharya) will be investigated and practiced.
We will look at the 20 qualities of nature (the gunas) that underscore the application and understanding of Ayurveda and how they relate to food, herbs and remedies. Food is of primary importance in Ayurveda, not only in relation to what we eat, but also how it is grown, prepared, approached and eaten. We will learn how to live in harmony with nature and take away knowledge of useful home and kitchen remedies.
All of these aspects will be integrated with our knowledge of yoga so that the information becomes useful in not only our daily living but also our personal practice and teaching life.
Read on for more details on the India Program, 2 – 12 September 2018
Venue and Program – India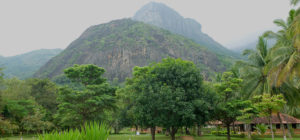 The program will be held in a Maitreyi Vedic Village in South Tamil Nadu. Maitreyi is an ecofriendly, spiritual and cultural retreat located in a rural location near the Peliyar Dam, Tamil Nadu.  It is very close to the Keralan Border and sits adjacent to the Western Ghats of India. You will experience the beauty of living close to the special sounds and silence of the hills and natural forests that are home to monkeys, and wild elephants.
At Maitreyi we will study with our teachers, Saraswathi Vasudevan and Dr Abilash in the traditional gurukul manner, (with the students and teachers living and learning in close proximity).
We will have the opportunity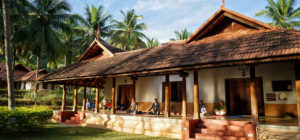 to  experience aspects of life in Vedic times, including daily ceremonies and chanting with in-residence Pandits,  and with the Maitreyi cow herd  roaming through the gardens under the eye of their full time Gopala (cow-herd).
Delicious organic vegetarian meals will be prepared along ayurvedic principles,  and you will have the opportunity to experience an ayurvedic treatment in the Maitreyi Clinic during the program and a full rejuventaion treatment should you wish to stay on or arrive early. .
Your program also includes a free consultation with Dr Abilash, and an ayurvedic treatment (Abhyanga) or equivalent), so that you may experience a taste of Panchakarma (five actions – rejuvenation therapy). You may also, by arrangement with Maiyetri and subject to availability stay on or arrive early for a full panchakarma (rejuvenation program) experience.

Faculty
Ms Saraswathi Vasudevan 
Saraswathi Vasudevan is  a renowned and exceptional international yoga teacher, therapist, teacher trainer  and founder of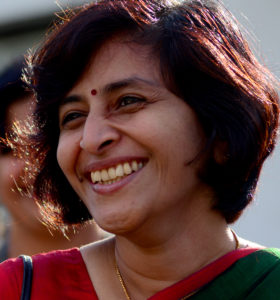 Yoga Vahini, Chennai.  Saraswathi was previously head of the Research Department at the Krishnamacharya Yoga Mandiram and studied directly with Sri TKV Desikachar for many years.  In addition to her decades of experience in viniyoga and vedanta she has completed studies in psychology and Ayurveda. Saraswathi regularly teaches  internationally, and is a highly sought teacher. She is profoundly charismatic and deeply affecting.
Dr. Abilash Anand BAMS PGDY
Dr.Abilash Anand is Director of the Maitreyi Ayurveda Clinic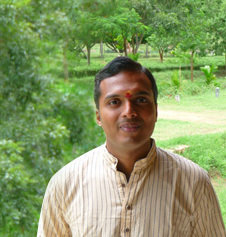 and has been with Maitreyi since 2009. He completed his studies at the Vishnu Ayurveda College, Kerala, South India then continued in the Indian guru-shishya tradition and studied personally under Ashtavaidya Alathiyoor Narayanan Nambi, a master of all eight specialties of Ayurvedic Medicine. Dr Abilash has also trained with Dr.Radhakrishnan in Kaya Chikista (Internal Medicine) and Dr Sasikumar Nechiyil in Rasa shastra (Medicinal alchemy). Dr Abilash is a committed and passionate Ayurveda practitioner, experienced with Indian and Western patients,  and a regular speaker on the European circuit.
Madeleine Marty has been involved in yoga, health and wellness for almost thirty years, against a background of law and lobbying. She founded Yoga Therapy Australia  in 2010 and is a Registered Level 3 Senior Yoga teacher, Yoga Therapist  and Ayurvedic Wellness consultant.   She studied Wholefood Healing with Paul Pitchford, Nutritional Medicine with ACNEM, is a GAPS practitioner, and is currently completing a Masters of Science (Ayurveda and Integrative Medicine).  Madeleine travels regularly  to India and the USA to further her studies in Ayurveda and Yoga and is passionate about empowering people to take care of their own health and happiness.

Accommodation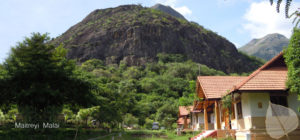 You will be accommodated in simple elegantly appointed traditional style cottages built according to ancient Vedic science of Vaastu (traditional science of Architecture). The cottages are neatly laid out in the 25 acres campus of Maitreyi amidst the coconut palms at the foot of the ghats. The environment is quiet and serene.
Single and twin share rooms are available, as well as triple and quad-share if there is sufficient demand. All rooms have en-suite bathroom, (shared according to your accommodation). There are limited numbers of each style of accommodation, so do book early if you wish to secure your option.
Travel
Cochin, the capital of Kerala, is well serviced by Singapore Airlines and Air Asia as well as a number of other airlines.  For international flights we have found Singapore to be comfortable and reliable. However, Air Asia and others have some great fares.
Maitreyi Vedic Village is around three and a half hours journey from Kochi airport in Kerala, and about 1.5 hours from Coimbatore.  Flights tend to arrive late in the evening or early morning.
If you plan to arrive at Cochin before the program, or intend to stay on after the program, Fort Kochi is well worth a visit and with its Portugese influence a great place to settle in and acclimatise. Fort Kochi is about 1.5 hours away from Kochi.  Trips to the famous backwaters and houseboat excursions can also be readily arranged from there.
Further details on transfers will be available after registration.

Visas
Visas are required for travel to India.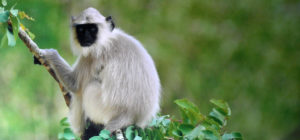 A Tourist  e-Visa may be obtained online and is valid for double entry for 60  days from date of arrival.  This period cannot be extended. Your passport will need at least six months validity from the date of arrival in India and at least two blank pages for stamping.   You may also need to show a return ticket or proof of onward journey.
Please take care to use government links for your Tourist e-Visa. There are non-government services offering services that we are not in a postiion to recommend.
Tourist Visas may also be obtained for 6 months or up to a year with single or multiple entries by application to the VFS agent for the Consulate.
Please check with the relevant authorities and webistes and terms and conditions are subject to change.
Inclusions
Air conditioned transfers from Kochi to Maitreyi Vedic Village
10 days/nights accommodation
All tuition with Ms Saraswathi Vasudevan, Dr Ablilash Anand  & Madeleine Marty
All meals at Maitreyi (Organic vegetarian, cooked along Ayurvedic guidelines)
Coconuts and refreshments at the Maitreyi 'rooftop cafe' (extra charge for certain juice varieties)
One Consultation with  Dr Abilash
One free treatment at the Maitreyi clinic  (Abhyanga or equivalent, according to your constitution)
Organic farm, cow shala and herb garden tour
Local Cultural Excursion, village, temple and/or waterfall
Inception of Ayurveda factory
Yagya Fire ceremony
Wifi at Maitreyi Reception area
Does not Include: Airfares;  Travel Insurance (Required); Transfers to and from places other than Kochi or outside of group times stipulated by YTA.  Meals taken outside of Maitreyi.

Transfers
If you are planning to arrive on the night of the 1 September, we suggest you stay near to Cochin Airport , Kerala for our morning transfer to Maitreyi.
You will be met at the Saj Earth Resort, right by the Cochin airport at 8.30AM 2 September 2018 and will depart no later than 9.00am for Maitreyi.  If you arriving that morning, the Saj hotel is in walking distance of the airport and transfers are readily available. We will return and drop off to Cochin Airport or the same Hotel at  around 1pm on 12 September 2017.
Should you be coming from another part of India, or wish to arrive independently, Maitreyi will happily assist in organising your collection from  Coimbatore airport, Coimbatore Rail station or elsewhere, at your cost (please note that due to vehicle and fuel prices, transfers are costly in India).

Pricing and Registration
EARLY BIRD PRICES  – Full ppayment by   30 April 2018
Triple-Quad Share  $2995 *
Twin Share               $3295
Single Room             $3995
FULL PRICE – Payment on or after 1 May 2018
Triple-Quad Share  $3195*
Twin Share               $3495
Single Room             $4195
Please note that accommodation categories are limited as is total venue space. If you wish to attend this training, we suggest you register and make deposit early.
*Triple and quadruple share options are conditionally offered and depend on sufficient demand. If you would like this category please book accordingly, and register with friends or note that in the event of insufficient requests for this accommodation type, you may need to upgrade to twin share at an additional fee of $30/night.

REGISTER NOW
If you are interested in attending this program in India or Sydney but are not yet ready to register please REGISTER YOUR INTEREST so that we know you are out there and can keep you up to date.
Register your interest
Terms and Conditions
1. A deposit of $500 is required to secure your place.
2. Deposits are non refundable.
3. For Early Bird pricing, FULL PAYMENT must be received by 30 April 2018, or full price is payable
4. For Full price, deposits should be made as early as possible to secure your place.  Balance payment is due no later than 16 July 2018. If not received by due date your place may be forfeited along with the non-refundable deposit. Bookings (subject to availability) made after 16 July should be accompanied by full payment.
5. Should you need to cancel your booking 50% of the balance (after deduction of the non-refundable deposit) will be given if notice of cancellation is received by YTA prior to 16 July 2018
6. No refunds can be made for cancellations made on or after 16 July 2018
7. However, at any time prior to the course commencement, a withdrawing participant may arrange to transfer his/her payments to another person to attend the same workshop in his/her place, (but only if that person satisfies any necessary pre-requisites).
8. YTA reserves the right to vary the content of the program as necessary to ensure a full and fruitful training and retreat experience.
9. YTA reserves the right to cancel the program for any reason whatsoever. In the event that this is necessary, full refund will be made. Should such cancellation occur, no liability is accepted for any damage whatsoever, including consequential damages, loss of travel costs, insurance, inconvenience etc. by YTA, Yoga Vahini, its teacher or agents.
10. Appropriate TRAVEL INSURANCE is highly recommended and required for this course.  It is the particiapnts responsibility to ensure same.
11. By undertaking this course you agree that photographs taken that may include you and feedback given by you, may be used by Yoga Therapy Australia, Yoga Vahini and the presenters of courses for marketing purposes. If you would prefer we did not use any of the material written by you or containing an image you must contact us in writing.
12. DISCLAIMER: Yoga Therapy Australia accepts no responsibility for any act, omission, default or neglect of themselves, their employees, agents or associates for any injury, damage, or loss to persons or goods whatsoever or however the same may be caused, either in Australia, India or elsewhere or in transit.